Common Mistakes Car Wash Owners Make and How to Avoid Them
When you become a car wash owner, you enter the exciting world of franchisee and entrepreneur all rolled into one. However, you have to plan for success. As with any startup, you must lay out strategies for success before problems occur.
Check out some of the most common mistakes that new car wash owners make and tips on how to avoid them.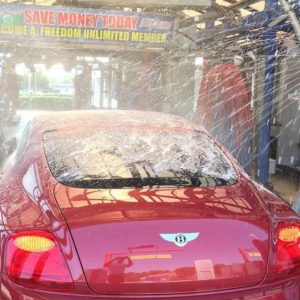 Top Mistakes Car Wash Businesses Make
#1: Undercutting Your Prices
Yes, you want to remain competitive, but you don't want to lose your shirt in the process. The profit margins can be very thin for car washes, so be cautious when setting your prices.
Aim for about 10 percent lower than your nearest or best competitor, rather than undercutting their prices by 20 percent or greater. At the end of the day, you're in business to make money and stay relevant, not to wind up going belly-up.
#2: Not Paying Attention to Customer Service
If you want to create loyalty among those who use your car wash, be sure to think about customer service. Even if you own an unmanned, coin-operated car wash, you can still make sure that customers love to come there. For instance, is the property well-lit and in a safe location?
Does it look tidy and friendly, or is it run-down and unappealing? Are the proper supplies there every time a customer visits? These are all aspects of owning your car wash business that you can't afford to overlook.
#3: Having No Presence on Social Media
Even if you don't want to pay for a website for your coin-operated or automatic car wash, you can still get traction from a Facebook business page or other professional social media presence.
Be sure to post regularly and update people about changes in times, events, etc. This is an investment in your branding as well as a chance to participate in conversations with the people who use your business regularly, as well as their followers.
#4: Choosing Inadequate or Cheap Anti-Theft Tools
Don't just go down to the nearest hardware store and buy locks for your car wash. Why? Those locks can usually be opened by generic keys. Instead, talk to a service that supplies specialty locks.
The same goes for burglar alarms. How many times have you heard an alarm go off and ignored it? The same thing will happen on your property if an alarm is tripped. Invest in a better type of alarm, such as one that contacts the authorities — or at least your cell phone — when it goes off.
#5: Not Anticipating Maintenance
Nothing is more frustrating than getting to a car wash only to discover that nothing seems to be working. The coin-operation machines keep eating quarters, the hose nozzle is sticky and stuck and the vacuum doesn't have an ounce of suction.
Think that a customer will return to the scene of this type of irritation? Not on your life! That's why you have to either check your car wash diligently or pay an employee to do it on your behalf. Keep up with your maintenance, and you'll enjoy happier customers.
#6: Never Utilizing a Franchisor's Marketing Suggestions
 As a franchisee, you'll probably get plenty of information from your franchisor, including marketing advice and items. Make sure you take the time to consider these before dismissing them offhand. The franchisor has your interests at heart, too, after all! If you don't make money, neither do they.
Consequently, even if you don't want to go overboard with your marketing tactics, definitely do something. A little advertising when you're new in town can cause a faster splash.
#7: Not Creating Spreadsheets to Monitor Progress
Are you simply counting the money as it comes into your business? You're only doing half the battle. Try creating a more in-depth spreadsheet and begin to look at when your high and low points are each week, month and season. Search for patterns, and consider adjusting your times or offerings accordingly.
For instance, if you notice that you're getting more customers after five in the evening, find out why. Go to the site and watch. Are they all coming from a particular business? Maybe it's worth targeting that business with marketing materials. The more data you collect and analyze, the better you'll be at maximizing your investment.
You might think that owning a coin-operated, automatic car wash is a part-time consideration, but it requires a full-time passion on your part to make it thrive. Focus your energies on making the most out of every day, and your car wash will help you earn more income potential year after year.
Start a Car Wash Business
Interested in starting a car wash business? Contact us today!