Tips Every Car-Wash Owner Needs to Know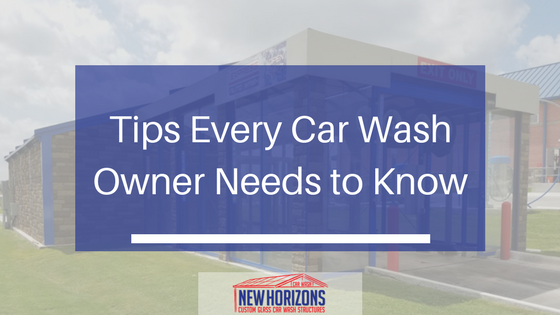 Running a business isn't an intuitive science. To be successful in any field, you need to stay willing to learn. Advancements are made all the time in many industries, and that certainly applies to the car wash industry. It's vital for even the most seasoned car-wash operators to be open to new ideas throughout their careers.
Advice for Car-Wash Business Owners and Managers
While learning and keeping up with industry trends is crucial for car-wash owners, it's far from the only thing they need to do to become and remain successful. We took a deeper look and came up with some advice for car-wash managers and owners. Here are some tips for running a successful car wash:
Remember that communication skills are essential: To be a successful car-wash business owner or manager, you need to develop effective communication skills. You need the ability to deal with disgruntled clients and vendors and resolve employee disputes. You'll also need to communicate effectively with people who have wildly different communication styles. When you master some basic communication skills, you'll be able to train your employees better, retain more customers and enhance the relationships you have with suppliers.
Understand that you set the standard: You set the standard for every aspect of your car-wash business. Your employees will pay attention to how you communicate with customers, and they will follow suit. If cleanliness isn't important to you, it won't be important to your employees. If you keep your standards high and refuse to compromise, your employees are more likely to live up to or exceed your expectations at every turn.
Be mindful of your appearance: One of the most enduring car-wash-owner tips that both entrepreneurs and business managers should keep in mind at all times is to maintain their appearance. While it's important for you and your staff to look presentable up close, it's just as important for your property to look inviting from the road. How your business looks is a deciding factor for whether a customer visits, so maintain the appearance of your property throughout the year.
Reward frequent visitors: People like to know that car-wash owners and managers appreciate their business since they typically have many other locations to choose from. You can demonstrate your appreciation by offering a reward to frequent customers. Give them a free wash after they accumulate a certain number of paid washes, or offer a free wax treatment in advance of winter's arrival. Listen to your customers, identify what is meaningful to them based on their feedback and provide the service as a reward.
Start off on the right foot: You cannot overlook the structure of your car wash if you intend to operate a wash over the long-term. You can own a long-lasting, visually appealing car wash by aligning yourself with New Horizons right from the start. If you already have a structure in place, you should look into replacing your dated wash with a state-of-the-art, low maintenance installation from New Horizons.
Get Help and Expert Advice for Starting Your Own Car Wash Business
To learn more and get started, contact New Horizons Car Wash specialists today!